The most popular saltwater fishing charter in Alaska is quickly becoming the
COMBO charter for multiple species of ocean fish.
A trip of this kind provides the angler with the chance to take home a variety of Alaskan fish from a single day of saltwater fishing. The catch on a combo trip varies and is dependent on which species of fish are available at that time of the year. And the weather can always be a factor in determining whether a particular species can be fished under that day's water conditions. King salmon and rockfish are available year round along with smaller halibut during the winter fishing season. But as summer approaches the waters of Cook Inlet come alive with fish and wildlife to provide a very memorable fishing trip as well as providing sightseeing opportunites of some beautiful country and wildlife like sea birds, puffins, porpoise, whales, sea otters and bald eagles you may encounter along the way.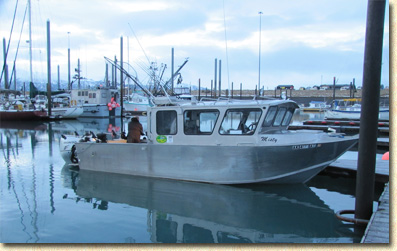 Fishing for
multiple species of fish
in the ocean requires a lot more travel time and distance on the water since these fish live in different locations. So a combo charter fishing day will cover much more "ground" than going out after a single species like halibut or just for salmon. But at the end of the day everyone on board agrees it is the way to go for the ultimate Alaskan fishing experience. And Captain Shane is the Master of Combo Fishing Trips without a doubt. He logs more hours on the waters out of Homer during a year than any other captain in the fleet. If he doesn't have a charter trip quite often he is out there on his own time scouting out new prospects and keeping in touch with where the best opportunities will be for his next clients. He also has a solid network of fellow charter captains who share their knowledge and fishing observations with each other to make everyones' experience that much more successful. The
M/V Misty
has seen many tons of fish come over the rails each season during its "career" as a working charter boat. Lingcod, black rockfish, yelloweye, Pacific cod, Pollock, halibut and all five species of Pacific salmon - kings, silvers, sockeye, chums and pinks - grace the photos of his successful anglers over the years.
~ PENTANGLERS COMPETE IN PENTATHALON FISHING TRIP ~
(From the pages of the Alaska Outdoor Journal, June 2014 - Reprinted by permission)
What's that you say? What are
Pentanglers
and a
Pentathalon
fishing trip? Leave it to Captain Shane of Driftwood Charters in Homer to be creative for his clients with more fun than a barrel of monkeys. Seriously. This FIVE PACK of happy anglers (thus the "penta" as in five) went on a whirlwind combo charter trip on JUNE 12th that had their arms aching by the end of the day and extremely happy they got to watch all those fish being cleaned and filleted by someone other than themselves. So where does the PENTATHALON trip come in. The crew got a limit of
Black rockfish
making up 80 pounds of pure fillets as you can see on the deck and then in the fish tote in the second photo. (That's ONE) The crew got a very nice load of
halibut
limits for everyone. (that's TWO) And the crew filled the deck with a load of
KINGS, REDS, and PINK Salmon
all on the troll. (That's THREE, FOUR, FIVE!) How many charters will you find a "combo" trip like that filling the fish box with five species? Who says a few extra bucks for a combo ain't worth it? (Plus a good tip for the Captain for his non-stop energy level.) This guy works hard for every fish you get. And even though its picture-taking time in these photos, the boat is TROLLING with all rods in the water since there are more salmon to catch. And the word on the Inlet is some early SILVERS are beginning to push in making a GRAND SLAM Salmon Trip of all five Pacific salmon caught in one day a possibility from here on out. Capt. Shane's boat the Misty achieved THREE Grand Slam salmon trips during the summer of 2013. Kings-Reds-Silvers-Pinks-Chums in one day. I'm sure there are more to come. ~KK~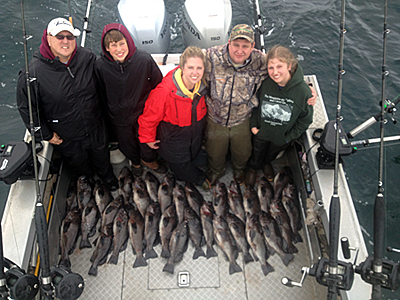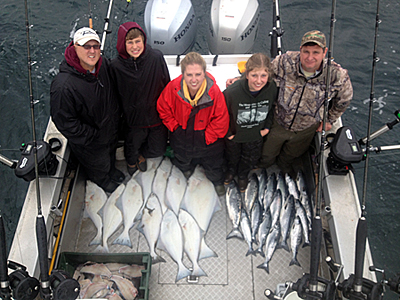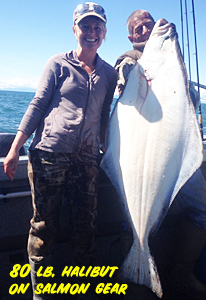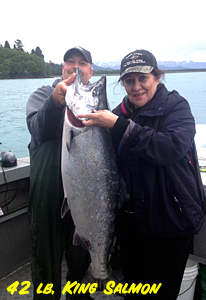 Combo fishing trips during the summer are a lot of FUN because much of the fishing is done using the downriggers and salmon trolling gear. When one of the rods "goes off" and the next angler grabs it to set the hook, you never know what might be on the end of the line. Depending on the day and the time of year we encounter Dolly Varden, Pacific cod, pollock, several species of rockfish, all five species of Pacific salmon and even some pretty good size halibut while on the troll. And talk about a battle on your hands when you may be the angler fighting an 80 pound halibut instead of that king salmon you were after. Its always a great accomplishment to land a big fish on light salmon tackle and the memories as well as the fish stories last a lifetime. Captain Shane is a very dedicated skipper who loves to fish as much as he loves to get his clients onto the fish. In nearly every deck photo you will see, 90% of the time the rods are all still in the water fishing while the boat is in auto-pilot as Shane snaps the photos of everyone posing with the catch.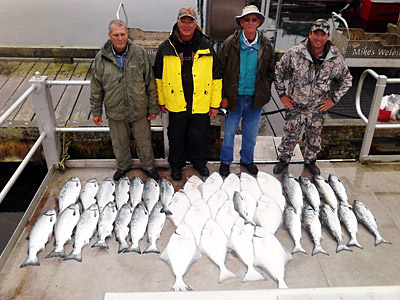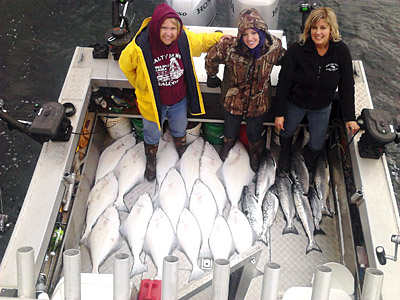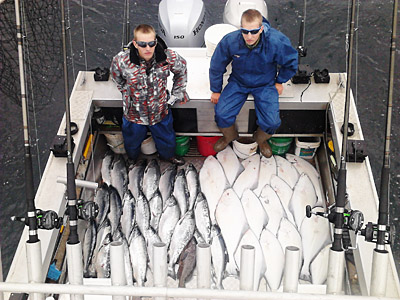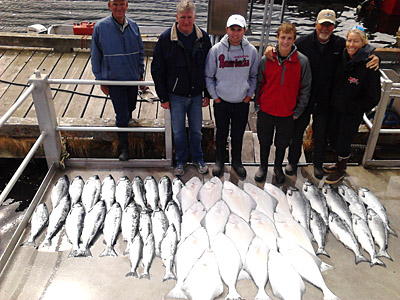 Are you convinced? The fishing trip in the double photo directly above was on Friday June 13th, 2014 but it was not unlucky for these anglers. They actually caught SIX SPECIES of fish on this day. King salmon, pink salmon, sockeye salmon, halibut, black rockfish and the icing on the cake, a Dolly Varden trout on the troll gear. If you are ready to get out there and get your share of Alaska's bounty on one of Driftwood Charters multi-species combo charter trips, just visit the HOME Page for our fishing trip rates, planning information and the contact info to call the gals at the Office to book your trip. Seats are booking quickly, especially as we approach mid-summer, so don't wait to pick a date that may fill quickly.