The coastal communities of Southcentral Alaska are blessed with mild winters as a result of warm Pacific Ocean currents and ice free seas. And true to the nature of the hardiest of Alaskan pioneers, some charter boat captains take full advantage of this wintertime fishing opportunity by remaining "open" year round.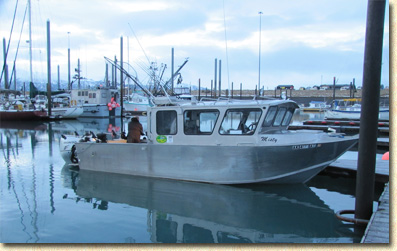 Most winter anglers are resident Alaskans. But as the word gets out and spreads there are more and more travelers visiting the State for various reasons during the winter who are also taking the opportunity to go fishing. Captain Shane Blakely is the owner/operator of Driftwood Charters in Homer and targets the abundant winter population of feeder king (chinook) salmon that cruise these near-shore waters in search of the vast quantities of baitfish, krill, shrimp, and invertebrates. It is this protein-rich diet that produces some of the finest tasting king salmon ever enjoyed by good ol' boys and connosieurs alike. Rich in Omega 3 & 6 fatty acids and rippled with layers of fat, these king salmon are in the process of growing for as long as five years in the ocean before heading back to their home waters to spawn and begin the life cycle all over again.
Mother Nature provides some "insurance" to guarantee its salmon stocks are not vulnerable to localized environmental conditions so these juvenile salmon enter the ocean as tiny fish and travel thousands of miles to the rich feeding grounds of Alaska from as far away as Oregon and California. The king salmon found in the Kachemak Bay and Homer area range from small one year olds up to the four year olds that will be heading home to spawn later in the year. So these fish offer a wide range of sizes from one pound jacks which are usually released to grow up to a larger size all the way up to a 40 pound monster that occasionally turns up in the net.
Most king salmon are in the two and three year old age class and weigh from the teens to the twenties and even a 30 pounder at times to really get the adrenaline flowing. And with fish of this size potential for many Alaskans it just makes sense to go feeder king salmon fishing rather than ice fishing for pansized trout.
Captain Shane is a diehard skipper and fisherman. He gives nothing but his best on each and every trip. He would rather be on the water fishing, even on those days when he doesn't have paying clients, than sit in the harbor or go mow the lawn. In 2012 he logged 200 days on the water that produced hundreds of king salmon for his clients as well as for his friends and relatives on those "fun fishing days."
Every day on the water provides Shane with more understanding of the changing conditions resulting from our global climate change which is altering long-standing fish patterns requiring new ones to be discovered. You can't do that from the couch watching hockey games all winter.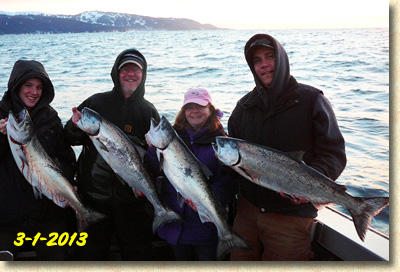 Watch for occasional specials Driftwood Charters offers which are quite competitive and provides a great savings too. When there are three anglers or more on board he will be running THREE DOWNRIGGERS & RODS and perhaps a flat line. This provides the absolute maximum fish-catching opportunity for the boat! Anglers can decide if they will each select their own rod (not a good idea) or rotate according to "drawing straws" as to who gets the first fish, second, third, etc. that hits. This always provides the most fishing action for everyone in the group. And when 2, 3, or even 4 rods get hit all at once there is an instant breakdown of whose grabbing what and when. Those memories last a lifetime!
You'll be fishing a wide variety of offerings with this many rods so its much easier to discover what the fish are preferring that day. Bait, lures, plastics, and everything in between are deployed. Even a 14kt gold lure that has taken rockfish, halibut, cod, and king salmon. During a day of fishing with Driftwood Charters you never know who's fish will be the biggest of the day until its time to head back to the harbor. Action can be slow on and off throughout the day and then in the blink of an eye there's a double or triple takedown throbbing on the rods to turn the deck into a veritable square dance as anglers work to keep lines and fish from tangling.
Probably one of the most important considerations for going winter feeder king fishing is the fact that the Alaska Dept. of Fish & Game regulations do not require an angler to log these fish on their license from September 1st through March 31st. And the limit is two king salmon per day. Anglers only need their current fishing license and a valid king salmon stamp for the current year.
Winter feeder king salmon fishing is not without its challenges. Winter storms are often hitting Alaska one after another for days at a time requiring some postponing of trips due to sea conditions and safety concerns as well as for the comfort of the guests on board. As the saying goes, There is always another day. But if you can adjust to these unexpected conditions and keep your schedule flexible for rebooking if necessary it will be worth the effort. Alaska has a long winter season and the fishing is good from the beginning of October to the end of May when the summer trips are kicking into gear for combos, halibut, rockfish and lingcod as well as silver salmon and the feeder kings.
FEBRUARY 9th, 2016: I took a bunch of friends out on this trip to help me track down where the best fishing had moved to for winter kings. On this day we decided to drag some bait at the upper end of Kachemak Bay with the hopes of tying into some nice fish. We ended up with a surprise bonus that put the icing on the cake on this picture perfect day on the water.
The fishing trip below was an outing just before Halloween of 2014 with some beautiful weather and water. As you watch the video it has a killer ending to the day's fishing action.
The following video is a nice example of a good day of winter king fishing on the water. The ALASKA OUTDOOR JOURNAL editor went along on this day to document the trip for their video fishing report. It wasn't the smoothest day on the water but as you can see once the action starts it can be one fish after another and the fish box fills up fast.
The video clip below is a little "movie" trailer put together from a earlier fishing trip on February 28, 2013 when the anglers on board limited on their feeder king salmon, including one white king, and also added a half dozen Pacific cod and a chicken halibut to the catch. If you visit this video's YOUTUBE PAGE you can click on the SUBSCRIBE button that will then notify you each and every time Driftwood Charters posts a new video on their Driftwood Charters You Tube Channel.